DRUG OFFENSES
We represent clients facing any felony or misdemeanor drug charges state or federal courts: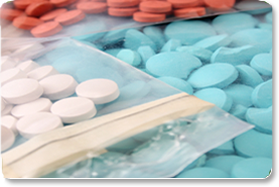 Possession of controlled substances
Possession with intent to deliver
Drug manufacture or cultivation
Drug trafficking
Sale of illegal street drugs
Possession of drug paraphernalia
Collateral Consequences
A conviction or guilty plea to simple drug possession charges can affect your employment and other rights. Any drug conviction may prevent you from qualifying for federal financial aid for higher education. A drug conviction may show up on a pre-employment background check, preventing you from landing a better job. A felony drug conviction can have adverse consequences on your rights. See also the "Felonies" section of this site.
In addition to the overall stigma of a drug offense, fines, costs, community service, drug treatment, etc., the entry of a plea in certain drug cases can suspend your driver's license.
Evening And Weekend Appointments Available
Visa and MasterCard Credit Cards Accepted
Howard helps clients involved with drug offenses in the Colorado "High Country." Howard, LLC represents clients in Eagle County, Summit County, Clear Creek County, Lake County, Garfield County and Pitkin County including the towns of Vail, Aspen, Breckenridge, Edwards, Avon, Eagle, Georgetown, Leadville, Frisco, Silverthorne and Glenwood Springs.
*The information found on this website should not be construed as legal advice and is not a substitute for professional legal consultation. You should not base your legal decisions solely on the information found in this site and you are encouraged to seek the counsel of an attorney regarding your specific questions or situation. The information found herein may represent the opinions or commentary of the site editor(s) and is for informational or education purposes only. You agree by using this site that no attorney/client relationship has been formed between you and the attorneys, editors, owners, or participants in this site unless and until a written agreement has been signed between you and your attorney.